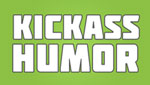 There's a lot of bad joke sites out on the world wide web. I wanted to create something that many other joke websites don't know anything about. Simplicity.
Back in December 2011, I created Kickass Humor. It has an intuitive design that lets users view, rate, and sort funny jokes without cluttering your face with ads. This joke website has a lot of potential.
I think I've conquered my competition in terms of usability and good design. Google, "funny jokes" and just look how bad my competition actually is. The top websites are Cool Funny Jokes, 101 Funny Jokes and the ugliest AHA Jokes. Not only are these joke sites ugly, it's also hard to find content. You have to make several clicks before you see any jokes at all. That's just bad design.
So if my sites cleaner and easier to use then why am I not on the front page of Google? Well much of the competition has been on the web for many years and their site is posted all over the web. I just need to spread awareness and get backlinks to my site. Backlinks are the most important key to getting ranked high in Google Search. For example, this post your reading right now is a great backlink to Kickass Humor 😉
So what are you waiting for? Visit the funniest joke site on the web!